Today marked our last day of work in Falfurrias for this season.
We began early as usual, meeting at the South Texas Human Rights Center at 7:30. Our goal for today was to finish the ranch we started yesterday. It was fairly small in comparison to other ranches in the area, so we felt that if we finished the periphery, we would be able to officially clear the ranch as of right now. Our team, Arianna, Selina, Eddie, Deputy White, and Byron loaded into our various vehicles and headed to the ranch gates.
In order to reach our goal, we split up into two teams, each taking a leg of the periphery. I went along with Megan, Dr. Latham, Eddie, and Bryon and we searched the northern border.  Alba and Holley went with Deputy White, Arianna, and Selina and searched the west border.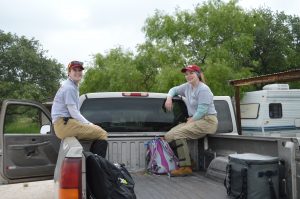 Different from yesterday, we were able bring vehicles onto the property, so we were able to have a place to keep our gear as we were searching. This lightened the load we had to carry on our backs as we were navigating the brush, and allowed us to more easily search for clearings or paths going off the main road.
We systematically made our way around the ranch, looking for any signs of human activity. We had no finds, not even trash, until we were almost done for the day. Dr. Latham and Megan found a rest area with shade, new trash, socks, a can opener, and more. They found their way back to the truck to tell Eddie, and then the three of us went back to take coordinates of the area.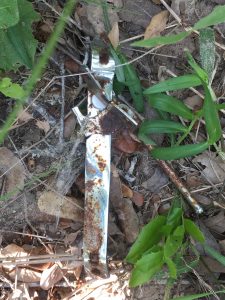 During this excursion, Eddie was trying to get in touch with the owners of the ranch next door to try to get us on the property to search for Byron's cousin. We met up with the other team, and decided that we were able to say with as much certainty as possible that the ranch was clear. So we headed back to the gate. Eddie was still trying to reach the ranch owners, so we all piled into the minivan to soak up as much air conditioning as possible.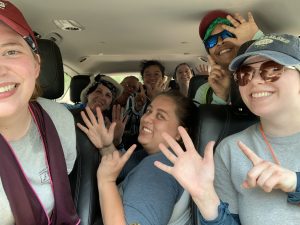 After about a half hour, Eddie still couldn't get ahold of the owners, so we decided to call it a day and head back to the center. There, we ate a small lunch and sat and talked for a while. Byron shared a little of his story of how he got to the US, which was incredibly eye opening for all of us.
We wrapped up our conversations, made plans for dinner, and departed. At the hotel, we all jumped in the pool for a minute (apparently ticks don't like chlorine), then showered and started to pack.
We were lucky enough to have everyone join us for our last dinner in Falfurrias! We went to Taqueria Jalisco, which is right down the road from our hotel. We ate great food, swapped stories, and decompressed from the week we had spent together.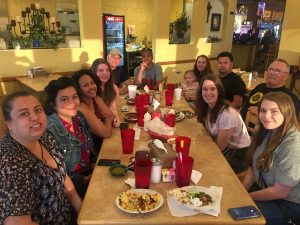 I am so thankful we were able to spend just a little more time all together, giving our trip a tiny sense of finality, even though we know the work will never be finished.
— Sidney