Going to Texas, I knew we would all encounter new experiences. I thought the hardest part of our trip would be navigating the terrain, but this was not the case. From filling the water stations to conducting searches, this trip opened my eyes to how devastating life as a migrant can be. If I could summarize what I learned in one sentence I would say our trip taught me about the power of perseverance. Both the perseverance of migrants to escape life-threatening countries or situations, as well of that of the many people who dedicate their lives to helping them. Many of the 40 water stations we serviced had been used. Some contained empty water bottles, while others contained no water at all. When you fill water stations, you are out on the road doing a necessary job. The magnitude of this work didn't hit me until we begun our searches and walked in the footpaths of migrants. Those empty water stations represent migrants who are not ill due to dehydration; they represent effective life saving efforts.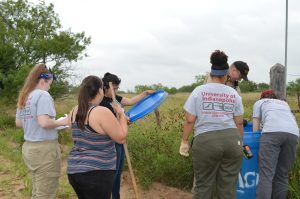 As I mentioned, the work we were doing didn't really hit me until we began our searches. Shortly after we began our first day of searches, the personal effects of individuals surrounded us. As we willingly tracked through the brush, trees, spider webs, and all sorts of organisms I contemplated the fact that this was not a choice for migrants. They don't have the freedom to get into a vehicle when they're dehydrated or tired. Walking in the brush is difficult, coupled with the heat and a long journey can make the task nearly impossible. Yet, thousands of migrants walk through the brush everyday.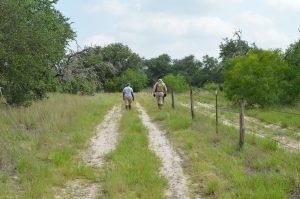 Another impactful aspect of our trip was the people. Each person we met was optimistic, dedicated, and diligent in their effort to aid in this humanitarian crisis. Getting to know Deputy Don White, Eddie, Arianna, Selina, and Byron was one of my favorite parts of this trip. They are all such wonderful, caring people. I'm honored to have been able to spend time with each of them and learn about their stories and what they do in Brooks county.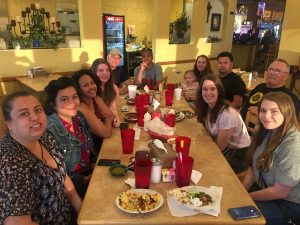 Since coming home, I've had a lot of time to ruminate over our trip. As students, we learned a lot in terms of conducting searches and practicing anthropology in a field setting. As people, we learned about human will and perseverance. At the beginning of our trip, I wrote that I believed this trip would be life changing. Not only did this trip live up my initial expectation, but it did so in such a way that I never believed possible. I am incredibly grateful to everyone involved and the South Texas Human Rights Center for allowing us to tag along and learn from them. I will never forget the people we met, the places we ventured, or the experiences we had while walking in the footprints of migrants.