The week that I was fortunate enough to spend in Falfurrias is one that I will never ever forget. I can't believe how much I've learned in such a short time from improving my skills in the field with search and recovery to learning and trying to understand all of the behind the scenes work that Arianna, Selina and Eddie do at the South Texas Human Rights Center. Although there were some hardships along the way, I would do it all again in a heartbeat.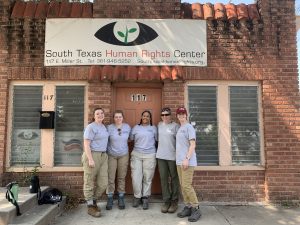 At the start of this trip, I knew that we would be working hard every day and that we would be battling the Texas environment (heat, humidity, and all of the little creatures), but I didn't know that I would leave Falfurrias missing every single person that I got to personally meet and get to know. I was never prepared for the impact it would all have on me and I don't think it has even all sunk in yet. Getting to know Deputy Don White, Selina, Arianna, Eddie and Byron was the absolute highlight of my trip. They're all such an inspiration and I'm so proud and thankful to be able to have participated in their mission.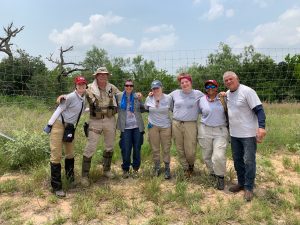 Taking part in refilling and repairing water stations along the various roads, highways and ranches gave me a glimpse into how far and widespread migrants can find themselves in Brooks County. There were very few water stations that we didn't have to replenish which, when I sit and reflect on that fact, shows how important the work done by the South Texas Human Rights center is; yet, it's heartbreaking to know that individuals crossing the border are constantly running out of water in a state with a heat so unforgiving. The search and recovery operations were also a reinforcement of this thought.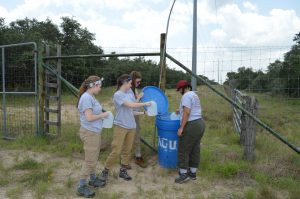 There is no comfortable path to take when you find yourself walking through the ranches of Brooks County. Being on these ranches and following the same paths of migrants crossing the border was exhausting, and we only did it for a few hours a few days. Experiencing Deputy Don White's dedication firsthand was one of the things that kept me motivated to continue forward. On our second to last search and recovery day, while we waited to be picked up by Eddie in the truck, Deputy White proceeded to tell us how proud he was of us and that he couldn't do it without us when, in reality, it's the other way around. Coming from someone who spends countless days and all of his energy doing what we did for just three days, it really meant the world.
There were a lot of impactful moments on this trip for me, but it wasn't until our last day in Falfurrias when Byron offered some insight into his own experiences crossing the border that I came to realize just how much sacrifice is involved in the decision to come to the US. Thousands of dollars, two and a half months of physical and emotional exhaustion, the fear of getting detained, and the knowledge that you may never be able to return home and see some of your own family members ever again. This is something unimaginable for me. Yet, as we said our goodbyes at Jalisco, Byron proceeded to hug every one of the Beyond Borders team and enthusiastically thank us for our work. Knowing that we had a positive and significant impact on someone who has experienced the hardships of being a migrant crossing the border makes everything worthwhile.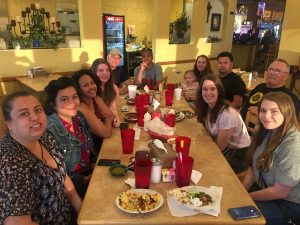 There aren't enough words in the world to express how grateful I am to everyone involved in giving me such an amazing opportunity and experience.
~Alba