It's day three back in Indy from my third trip with the Beyond Borders team, and this blog just keeps getting harder and harder to write. Not because I have no reflections, or because I did not enjoy my time, or because I didn't learn anything, but because I am not ready to be home. I will never be ready. How can I reflect on something with which I will never be completely finished?
Every trip leaves a part of myself in the field. There are pieces of me scattered all around Brooks county. These are pieces that I will never get back, because they belong there. And coming home a little less of myself and little more someone new is tough, even though every trip changes me for the better. I am able to see myself grow little by little into someone I want to be and am proud to be. 
My growth this trip specifically was rooted in my team. Their support and general concern for each other's well being is what allowed me to push myself harder. I traveled farther, through thicker brush, because I knew they were there. Sometimes, I got stuck. And they were there, to take pictures at first, but then to stop the line search until I was able to get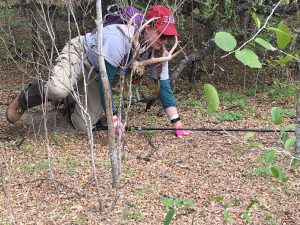 back into our formation, make sure I was okay, then continue. This team is unlike any other of which I have had the opportunity to be a part. Each case we do here in Indiana, each school project, brings about a new team. But this team. This team is what I will hold as my gold standard for as long as I am in the field. 
Dr. Latham, our fearless leader. She works harder than every single one of us combined and then some. Her ability to traverse the challenging political landscape at the Border with grace and poise is something I admire and can only hope to one day emulate. I am so proud to be her student and mentee, and hope that I am able to continue to use her as my anchor, even if we are equally directionally challenged.
Sammi, the tried and true. Never have I ever seen someone so dedicated and good. Watching Sammi work and map is truly incredible, and I learn something new every day with her.
Alba, my truest partner in crime. Alba cares so deeply for everyone and everything, in a true Cancer passion. She knows what I am thinking, even from other ends of the line search. I am thankful for her friendship and above all, her ability to make anyone feel important.
Tanya, the rookie. The one who will do anything you ask, because she is so eager to learn. She will go so far, and I cannot wait to cheer her on.
And of course, our team would be nothing without Deputy White and Eddie. Both are so incredibly selfless, having dedicated their lives to the border crisis. Working alongside both of them is quite literally a blessing. I am thankful for their leadership, guidance, and encouragement. 
So, while I may still be partially in Falfurrias, I know that my team continues to have my back, which is more than I could have ever asked for. Hopefully, I will be back in Falfurrias one day, and be able to give it everything it has given me.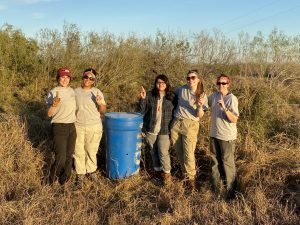 — Sidney