Our first day started bright and early – or should I say dark and early. With a meeting time of 7:00 am, we had to get up, dressed, and ready to work before the sun was up. Kaitlyn started her day with some Tai Chi while Jordan, Izzy, and I started with groans. Clearly, only one of us is a morning person. After a quick breakfast at our hotel, we were off in the minivan to meet up with the Texas State team and Deputy Don White at the cemetery.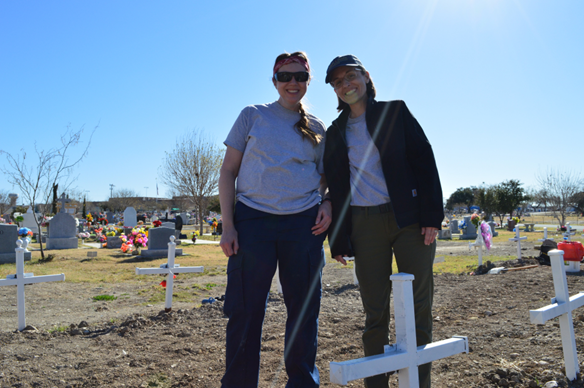 The Texas State team is bigger than ours and consists of master's and Ph.D. students, but they all seem nice and ready to work. Dr. Ana Carina Marques and two of her students from the University of Texas – Rio Grande Valley are also helping with the project. After a quick introductory meeting, we unloaded all of our equipment from the van and got ready to work. The morning started out a little chilly, but by the time the sun came out and we started moving, the Texas heat was making its presence known.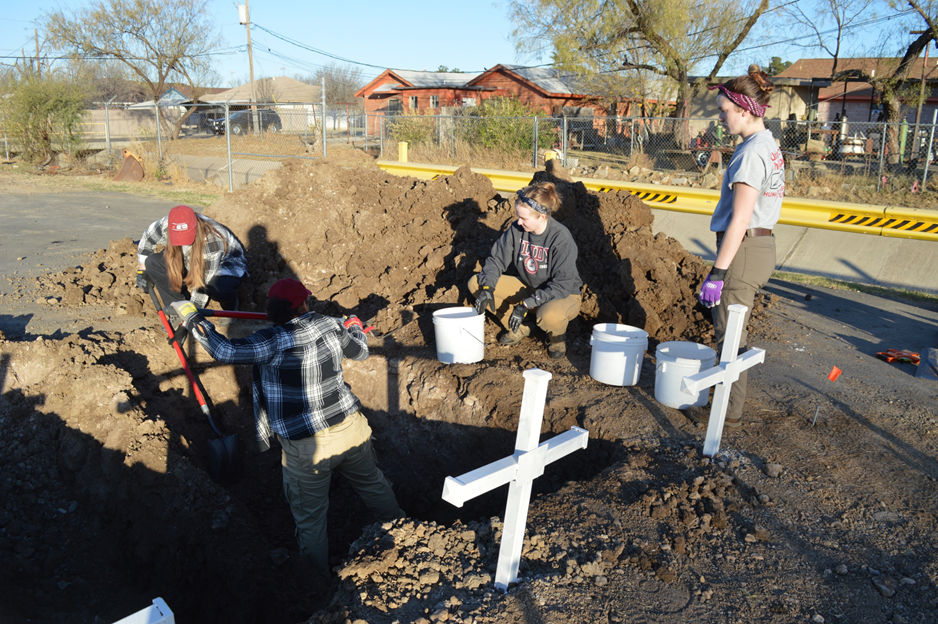 The cemetery workers had used a backhoe to help speed up our excavation process and prevent us from having to manually dig down multiple feet through the hard clay-like soil that is in this part of south Texas. Our team took one area, while the Texas State and UTRGV teams took another. We started out by taking some measurements, so Jordan can create a detailed map of the area (which we learned is harder than expected because we can't do math). Then, it was time to start excavating.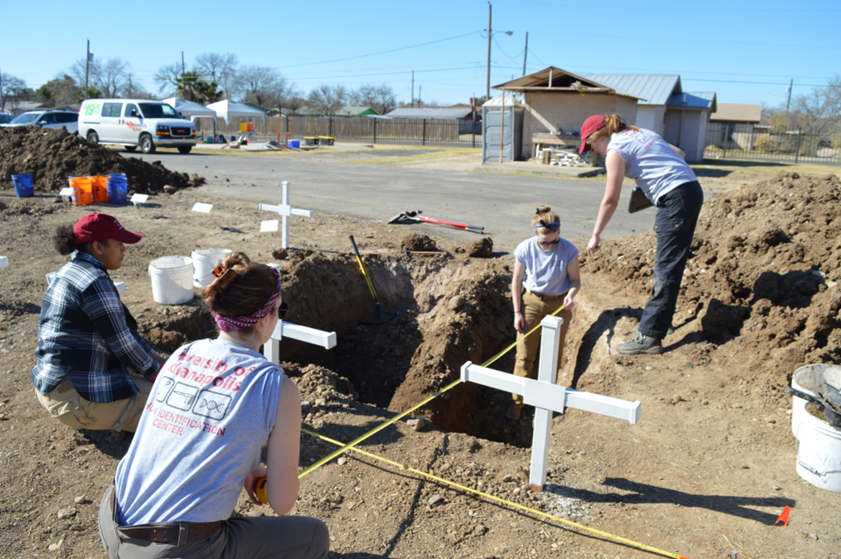 During the first excavation, we began to find our groove as a team, removing dirt the consistency of peanut butter, emptying buckets, and reminding each other to take breaks and drink plenty of water. We quickly learned that wet dirt/clay is not fun to work with and will only feel heavier and heavier the more you work with and lift it. When it came time to remove the individual from the grave, we donned our PPE and worked together to lift and remove the individual from the grave. They were then taken to the intake tent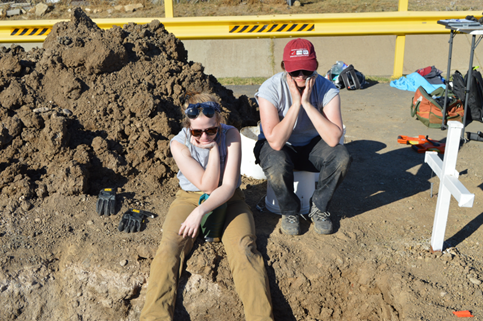 While Kaitlyn went to the intake tent, Dr. Latham, Izzy, Jordan, and I started to work on our second excavation. The intake process, run by Texas State, is extremely detailed, recording as many features – both biological and material – as possible because you never know what may be the key to a positive identification. By the end of the work day in the field (approximately ten hours!), we had three individuals removed and through the intake process, with several more ready to remove first thing in the morning. We called it a day, had our bottles of ice-cold Coke from glass bottles (because it tastes better from a glass bottle. It's a fact), annoyed Don a little (he loves us, even if he won't admit it), and headed back to the hotel.
After quick showers that included a lot of soap and scrubbing, we headed out for a delicious dinner at Parilla de San Miguel. Once back at the hotel, we had our nightly debrief before Jordan started making her map, Izzy created a photography log for all of the photos we took throughout the day, and Kaitlyn watched the movie Stardust. We can already tell we're going to be sore, but we're excited to get back to work tomorrow.