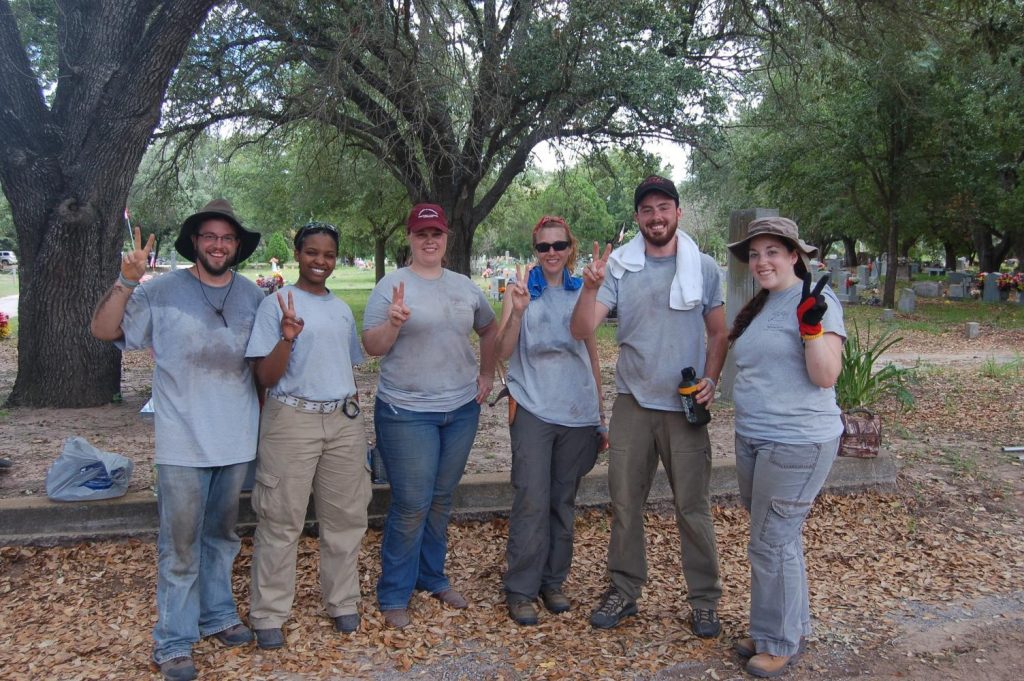 Our second day in the field was charged with anticipation.  Everyone had a feel for the area and set-up tasks so we had a very smooth start.  Yesterday we cleared and prepared our work area in order to get a clearer picture of what we might encounter today.  This prep work allowed us to develop a plan for how to approach each individual quadrant.  With six groups (five from Baylor University as well as our UIndy crew), we started systematically excavating designated quadrants.
Our UIndy crew started the day by presenting some archeological techniques each group would be using throughout the next two weeks.  Afterwards, we split up to coach and help the undergraduate groups and to answer any questions that may arise as they started digging.  It was a great experience because we gained field teaching experience and also built positive relationships with the other students, which encouraged them to come to us with questions as they progressed through the day.
When we regrouped in our own assigned quadrant, we naturally fell into our routines and were able to work very efficiently.  It was hotter today, with no clouds or breeze to offer a little relief.  We had to take more breaks and make sure everyone was drinking enough water and Gatorade to replenish all the fluids we inadvertently lost.  The mosquitoes are also pretty aggressive this year, so we are going through large quantities of sunscreen and bug repellant.
Two members of the Border Brotherhood also stopped by today interested in learning what all we were doing and how they might approach future recoveries when we are not in Falfurrias.  The nine Brotherhood members are serving as volunteer deputies for the Sheriff in Brooks County, serving the county for absolutely no compensation.  They see the need in Brooks County and seek to help in any way they can.  Sergeant Daniel Walden said their mission is to save lives and get government attention focused on the crisis in Brooks County.  Walden is currently Chief of Police at Donna ISD Police Department, is an EMT and an expert in human trafficking.  While their main goal is to rescue and aid the living, they also help recover the dead from the vast private ranch land surrounding Falfurrias in Brooks County. The deputies supply their own equipment and protective gear, and serve long hours in their free time (time not working in a different paid job).  Their visit at the cemetery today was an effort to improve their knowledge of recovery techniques so that they can incorporate them in their own recoveries if ever needed.  Learn more about their efforts here: http://www.krgv.com/news/border-brotherhood/
We are always happy to provide any information that can help prevent or address migrant deaths.  It is part of our mission, not just to be a reactive service, but to provide better information, resources, and alternative systems to help bring awareness and accountability that will prevent the need for our return to Falfurrias.  As much as we love the town and community (we love them a lot), the human crisis that brought us here in the first place can be prevented by establishing an infrastructure specific to identifying and repatriating the unidentified migrants in Brooks County.