We had the privilege of working with the volunteers of Catholic Charities at Sacred Heart Church in McAllen, Texas.  McAllen is right across the border from Reynosa, Mexico.  The volunteers at Sacred Heart donate their time and efforts to welcome refugee families that have been released from the Border Patrol Processing Station.  Many of these families were detained for several days, possibly weeks before being released  into the loving arms of the volunteers at Sacred Heart.  Please allow me to take a moment to explain this phenomenal process.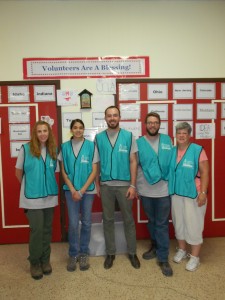 All of the people coming into Sacred Heart are families.  Like I said earlier, these fathers, mothers and children have all spent a number of days in the Border Patrol Processing Station before being released in order to continue their journey into the United States to reunite with the rest of their families.  They are exhausted and disheartened from their detention, and it is the goal of the fine men and women of Sacred Heart to change that.
The first thing the volunteers do is line up for the arrival of these families.  When they arrived we all applauded and cheered to make them feel welcome.  We wished them "bienvenidos a todos" (or "welcome y'all" to my gringo friends) to let them know they are now safely home.  At first the families seemed shocked and surprised.  Slowly they seemed to realize that we were there to greet them and the smiles and tears of joy began to flow.  It was amazing to see these families finally get the welcome that they deserved.
After the families were checked in, they were given personal hygiene products (deodorant, toothbrushes, etc.).  If they had small children they were also given supplies such as bottles, formula, and diapers.  Next we brought the families over to a group of tables and gave them a hot meal.  While they were eating, we asked them what size clothing they wore.  Instead of eating, many of the small children chose to play with the massive amount of donated toys.  This seemed to transform them back into the playful, lighthearted children that they should have always been.  They continued to eat while we "shopped" through the donated clothes in the church.
The room looked more like a clothing warehouse than a church.  There was clothing everywhere, and it was all separated by size and into boys and girls clothes.  The young gentleman volunteer that I was paired with and I were tasked with finding an outfit for a mother of two.  Finding women's clothes clearly made this young teenage boy uncomfortable, which the rest of the volunteers clearly enjoyed.  When it came time to picking out the undergarments he turned as red as a tomato.  Luckily, a young lady who was volunteering was kind enough to save him the embarrassment, and she picked those out for us.
When the families were done eating, they were taken to the shower.  As a man who is used to digging in the dirt all day, I know the power that a good shower can have.  It is invigorating and it makes you feel like a real person again.  After the shower, the families are allowed to stay at Sacred Heart until their bus rides out of McAllen.  This can range from a couple of hours to any number of days.  The volunteers provide these families with a safe and inviting place to stay until they make that journey.
They work they do at Sacred Heart is amazing.  It is heartwarming to see such care and affection for complete strangers.  There seem to be a lot of tangled threads of fate with the work UIndy does here in Texas.  Maybe it was a coincidence that both this church and the cemetery in Falfurrias are named "Sacred Heart", but it is hard to shake the feeling that there is something more behind it.  We also had the remarkable luck to arrive on the one year anniversary of this program.  I would like to personally thank them for all of the incredible work that they do and I wish them all of the best for many years to come.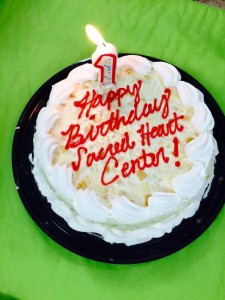 For a list of items needed please click here
To volunteer please click here