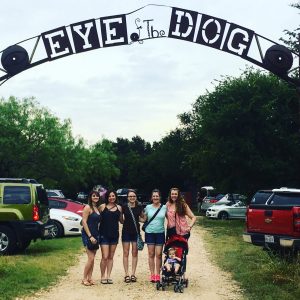 I have enjoyed an incredible three days at Texas State University at ORPL participating in the analysis of the skeletal remains that were recovered by the UIndy team in January, May 2013 or June 2014.  I learned an incredible amount in the process and I feel so far beyond grateful to be here.  After analyzing 9 cases (our goal was 6), today was our rest day before we travel to Rio Grande City tomorrow.  We left the hotel at 9am to go to Gil's Broiler for Manske rolls.  We realized before we left that Gil's didn't open until 11am though, so we ran a few errands before going for breakfast.  A few of us needed a couple of odds and ends to survive the rest of the trip, so we stopped at CVS to pick up a few things.  We were on the hunt for a cooling towel, which will be essential when we are in Rio Grande City performing exhumations.  It is supposed to be around 100 degrees each day we are in the field, only allowing each of us to work about 4 minutes before we have to take an 8 minute hydration and cooling break.  During this time, a cooling towel will help tremendously to cool us down.  One of our team members forgot her cooling towel in Indiana, so we did some hunting around San Marcos to find one.
After CVS, we went to Lowe's to pick up tarps to keep our van clean after our field days next week.  We want to preserve the beautiful brand new van as much as we possibly can, so we decided tarps were completely necessary.  After Lowe's, we went to Academy, a sporting goods store, to find the cooling towel.  We were successful and what a cool store that was!  After that, it was nearing 11am so we headed for Gil's to get our Manske rolls.  When we got there, there were a couple of people waiting outside.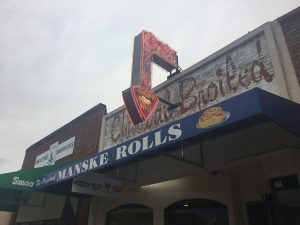 The doors finally opened a little after 11 and we were so excited.  We ordered our Manske rolls at the counter, a few of us adding half of a Hershey's bar to our rolls, and then we found a table to wait.  After getting our rolls, it was very difficult not to scarf them down because they were so delicious.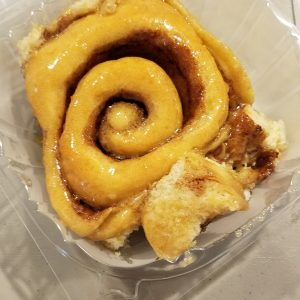 After our breakfast, we traveled a short way past Texas State University, a beautiful campus, to an art show we were invited to by Kate Spradley.  It was located at the Eye of the Dog Art Center and was a pottery show.  The pottery on display was so beautiful.  We really enjoyed seeing it all.  We spoke with one artist who informed us that they have three art shows a year and this was their biggest one.  It was so neat to see all of the different ways clay can be used to make beautiful pieces of art.
After the art show, we went back to the hotel to relax and do laundry before dinner.  We left at 6pm for a restaurant called "54th Street", which turned out to be extremely busy because of a prom being held nearby.  It was a lot of fun to see the prom dresses as we were waiting for our table.  We waited for about an hour before our table was ready.  The food was fantastic, and thus the wait was well worth it.
Tomorrow morning we are leaving for Rio Grande City at around 10am.  It will take us about 6 hours to get there.  I am so excited for this next leg of our journey in Texas.  I have had an amazing experience here thus far, and I very much look forward to being able to learn so much more about this process, as well as observe a different culture.  I am so glad that the University of Indianapolis offers experiences such as this one, and I am so thankful for Dr. Latham and the wealth of knowledge she is able to share.  I have learned so much from this experience already, and I am looking forward to learning a lot more.