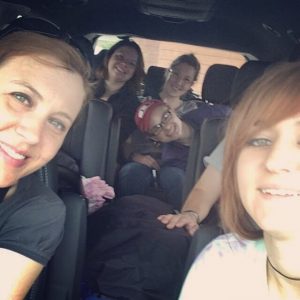 Today was our travel day to Rio Grande City.  We started our day with a smorgasbord for breakfast, trying to finish up all of our leftovers before we hit the road.  Our breakfast consisted of breakfast tacos, lunch meat, a leftover Southwest chicken wrap, and leftover taquitos.  After breakfast, at around 10am, we bid farewell to San Marcos and began the five hour trip to the border.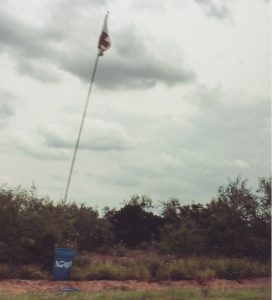 The drive went smoothly, and thankfully, our van has a DVD player so we were able to watch Ferris Bueller's Day Off and Pretty in Pink to pass the time.  The further South we drove, the more rural it got.  At one point, we went an hour and a half without seeing any towns, houses, or buildings.  In our past seasons in Texas, we have heard stories from different individuals regarding their crossing experiences.  Many of these stories indicate that people travel for hours and miles without any more direction than "head towards that tree for about three miles." It is one thing to hear these stories, but to see the routes and terrain these individuals travel is truly an eye-opening experience.  If it takes over an hour and a half to drive between towns, it is unimaginable how people can walk these distances in the heat of the Texas sun without direction, food, or water.  Along the way, we saw a few water stations placed along the highway.  It was really wonderful to see these water stations, because not only do they indicate a life-saving resource for these individuals, they were built by Eddie and other volunteers at the South Texas Human Rights Center.  So even at the border, we have reminders of the incredible people we have met and wonderful experiences we have had the past five years in Falfurrias.  I think these little reminders are a good sign for our new beginning in a new county.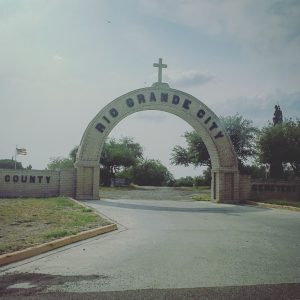 After we arrived at the hotel, we unpacked our belongings  and took a shopping trip to HEB to get essentials for lunches in the field.  Afterwards, we headed to the cemetery to meet the Texas State team and see what we are up against in the week to come.  We pulled up to the cemetery and it was HUGE!  It was not only larger than Sacred Heart, but also contained a greater variety of graves, including mausoleums and large fenced-off enclosures.  We did a walk-through of the four different sites that UIndy and Texas State plan to excavate this trip and were told that the UIndy crew will begin in Area 2.   After the Texas State team left, we stuck around the cemetery for a bit to formulate a game plan for tomorrow.  Area 2 is covered in debris, rocks, and broken glass, so the first task we will tackle tomorrow is clearing off the surface.  Next, we plan on taking measurements of surface markers for the maps I will create, and we will then begin the excavation process.  I am anxious to start excavations tomorrow, but after devising these plans, I feel confident in what we will be able accomplish the next five days.