As I write this, we are all sitting together as a group going over what we did well today, what we need to work on in the future, and strategizing for a productive day tomorrow. As we reminisce on the day's work, I feel so proud of how much we were able to accomplish in just one day. These accomplishments were due to many factors, including effective communication, seamless teamwork, and our determination to begin the identification journey for as many individuals as possible.
Today started out a little later than usual. While we usually get up at 5:30am and arrive at the cemetery by 6:45am, today, we were able to sleep in until 6:30am and we arrived at the cemetery at 7:30am. This extra hour of sleep was crucial, because not only do we have three days worth of exhaustion and sore muscles under our belts, we knew that we had a long, hard day ahead of us.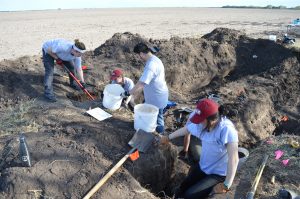 Yesterday, in the last few moments before sunset, we located two burials that would require us to extend our pit and remove a lot of dirt in the process. These two burials were the first tasks we tackled this morning. Although we did divide into two teams to uncover these burials simultaneously, we still worked as one cohesive unit – dumping buckets for each other and fetching any tools needed to complete the excavation. Unfortunately, our efforts were met with some resistance as the soil was extremely compact and almost impossible to get through without the help of the mattock and a lot of manpower. Thankfully, we had some extra help – Jorge! Jorge was incredibly helpful and we could not have gotten as much done today as we did without him. He used the mattock, carried and emptied buckets, shoveled dirt, and encouraged the team with his positive attitude. Jorge was an integral member of our team today, and we will surely miss his help in the days to come. At the end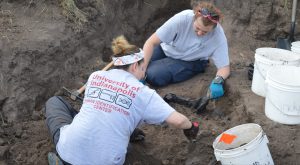 of the day, we had uncovered a total of seven burials. From various context clues, we were able to decipher that three of these individuals did not fit the migrant profile; those burials remained in the ground and were recovered with dirt. Three other burials were consistent with the migrant profile and were subsequently removed to begin their journey towards identification. The seventh burial was located at the end of the day and will be excavated first thing tomorrow morning. Uncovering this many burials in just one day is a testament to how well our team works together and clearly demonstrates that through teamwork, any task is possible no matter how big!
After a long, hard day in the field, nothing sounded better to us than some gas station tacos! While it may not seem like a good idea to eat tacos from a gas station, these tacos are actually phenomenal! I was first introduced to gas station tacos (Laredo Taco Company) in Falfurrias and have loved them ever since. These tacos are handmade with fresh tortillas and prepared right in front of you by incredibly nice and genuine people. It was the perfect end to a long, successful day.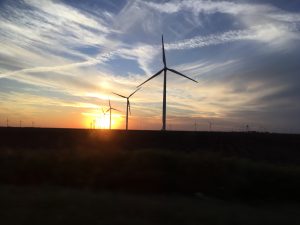 Tomorrow, our plan is to excavate the burial we found at the end of the today and create a trench in a large open area of our quadrant. Because many of the migrant burials do not have associated grave markers, it is possible that this region contains unidentified individuals. Creating trenches and digging test pits will be the most efficient way to locate any potential burials within this area. I look forward to what tomorrow brings, and I know that if we can work together as well as we did today, we will be able to accomplish all that we set out to.
–Leann