The days are long, the evenings are short, and the nights are even shorter. This field season is different in many ways but has the same common goal as the past three field seasons I have participated in. The goal of recovering migrants in hopes of getting them identified and returning them home to their families. With our fifth field season in progress, we are still learning how each county and funeral home operates and nothing is the same from one place to the next. Some keep better records than others, but the reality is that these funeral homes and counties are doing the best that they can with an overwhelming situation. It won't change until there is policy change and increased funding for this mass disaster situation.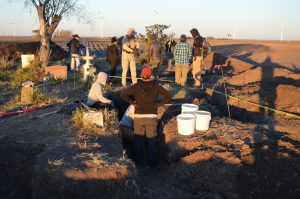 Today was a hard day of moving a lot of dirt and digging trenches. Although we may feel tired, we are all still motivated in continuing this humanitarian effort. With each burial that we locate, it is an individual whose family is that much closer to finding out what happened to them. It is easy to get lost in the manual labor but once you find a burial, it is like finding that golden ticket.
In the area that we were working in today, we were told originally there were three possible burials. We located six in that area and the ones we found were not even in the direct area that we were originally pointed to. It is no one's fault because the funeral home is relying on memory to point them out, so it really is a guessing game and thankfully, we have become pretty good at analyzing it.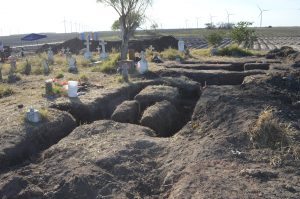 After recovering three burials, Joe and Louis were able to come back and help us extend our quadrant outside the original lines. We did this because the group next to us located a burial outside of their quadrant; so, in order for us to do our due diligence, we needed to check our area too. I cannot thank Joe and Louis enough for helping us with this endeavor. Although the dirt is nowhere near as hard as it was in Rio Grande City, it is still extremely difficult to get through by hand. So far, most of the quadrant has been dug by hand so it was nice to have a small break while the back hoe did its job. It is also kind of sad because the amount of work that the backhoe did in 1 hour is more than we could do in a day by hand.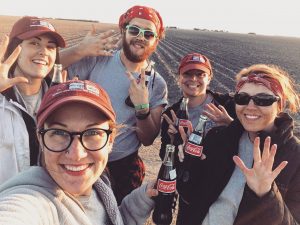 I love being apart of this humanitarian effort and being able to work along side community members and Texas State University. We have had several visitors from when we were in Brooks county and it is nice to see the familiar faces. We only have two more days left in Harlingen and it is a bittersweet feeling. Tomorrow we plan to visit 'the wall' which will be a sobering experience and remind us why we are continuing this effort.