When a new team gets together each year for a Beyond Borders humanitarian trip, there is always a little bit of mystery! For instance:
What will the weather be like, or rather, how might mother nature surprise us today?
Will our team be cohesive and work efficiently together?
What unanticipated challenges will we face?
We do our best to prepare a schedule during our time here, but it is crucial that we remain flexible for a quick change of plans at any moment. This is my third field season, so I know how much the dynamics can vary. However, I knew we were off to a great start because everyone faced the unknown with positive attitudes and enthusiasm.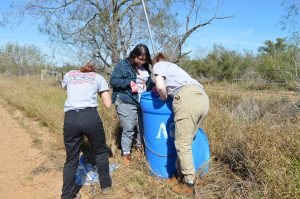 Today was our first workday in the field, so we got up early and ate a hearty hotel breakfast, packed lunches and field gear, and headed off to meet Eddie Canales at the South Texas Human Rights Center (STHRC). Of the many great things that this organization has developed and contributed since its founding, one of the most important aspects is constructing, repairing, and replenishing water stations in the South Texas borderlands. There is a massive checkpoint in Falfurrias, which is a major reason why Beyond Borders has returned to this town over the years to perform search and recoveries, exhumations, and volunteer services. However, I did not realize that there are smaller checkpoints located on many side roads that circumvent the main checkpoint until we ended up driving through one today. No matter what, there is no choice for migrants but to walk through acres of brushland with indistinguishable landmarks which can be fatal without adequate hydration.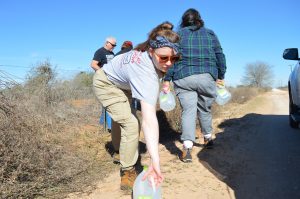 Throughout the day, we serviced 60 miles and 3 counties worth of water stations, set up 5 brand-new stations, and distributed 88 gallons of fresh water into the bright-blue barrels. Most of them were completely empty and needed 6 new water jugs, which is amazing because it indicates they are being used. It was also incredible to see that random citizens had added individual water bottles, electrolyte solutions, and even an Arizona Iced Tea into the empty barrels to contribute to saving lives. It is highly encouraging to see that other community members perform these acts of kindness regardless of politically-charge circumstances.
In addition, it  was difficult to decide where exactly to place these water stations. Fortunately, Eddie has hawk-like vision and was able to spot clothing and debris left behind in shaded areas near the roads, which indicated migrant activity. This often instigated the placement of a new station, which we couldn't have done without him knowing the terrain and signs.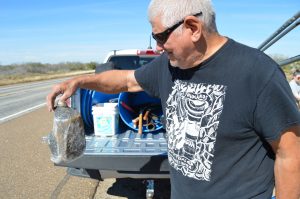 The extreme wildlife lived up to our expectations, as well. Fire ants, wolf-spiders, thorn bushes, mice, spider webs and nests, sticker burrs, bees, sand, heat, you name it! We experienced quite a lot today and will be diving in even deeper tomorrow.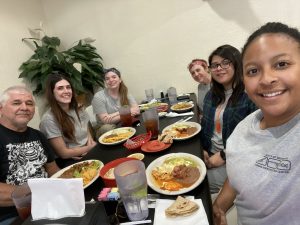 However, today we were pretty unstoppable (except for lunch, which was the most mouthwatering Mexican food I've had in a long time). You'd think we inhaled our food like a vacuum because not a single person left a scrap of food on their plate. Just trust me when I tell you we savored every second of it.
I am beyond proud of the way our team worked together today. We had all hands on deck and Tanya was an incredible addition to the team. She was attentive and enthusiastic and asked lots of questions. It reminded me of my first trip, and how new everything was to me. Tanya and Alba are fluent in Spanish, so they exercised their skills by writing messages on the insides of the barrel lids so migrants in distress can contact for help. It was great to see specific people utilize their strengths, but we all worked together and had a go at every job. Today was only my second time filling water stations in the last three years, so I gathered so much from this experience. Eddie is an animated storyteller with incredible passion for this work, so it was incredible to hear his anecdotes between work times. I wish you all could meet him.
I cannot wait to see what's in store for us tomorrow! If its anything like today it will be tough, but nothing we can't handle with proper preparation and resources.