We started our second day like we did our first: 7 am breakfast at the hotel (including our daily dose of vitamin C from our individual Emergen-C packets). Before heading out to the South Texas Human Rights Center, we had to make a necessary stop at the gas station for more drinking water since we went through over 3 gallons our first day. We reached the center at 7:50 am and waited for everyone to arrive.
We were particularly excited for this morning because joining us was a cadaver dog handler, Melissa and her dog Katana. She gave us a lot of information on her long background of dog handling as well as how she currently trains her dogs to locate bones. After everyone was ready (Deputy Sheriff White, Eddie, Melissa, Katana, and the Beyond Borders team), we headed out to the ranch for our first search of the trip.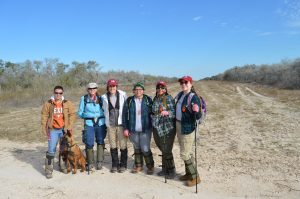 Our team has an organized plan to perform the searches, but, as mentioned in the previous post, flexibility is a key element to our success. While we didn't know exactly where we were going to search or the specifics of the landscape, we were as prepared as we could be with our Permethrin treated field clothes, sunscreen, bugspray, snake gaiters, and plenty of water.  Our strategy for this specific search day was to follow along a pipeline in line search formation. With one person walking directly along the pipeline as an "anchor" point for everyone to reference, we spaced out in the brush and began our search. 
As we started walking, it seemed that our team was a little out of sync. With the new, tougher  environment and a first time search for some, it took us a few minutes to really get into the swing of things. But as we started learning from each other and keeping up with everyone's rhythm, we quickly became accustomed to our new mission. Our team's consideration for one another was the biggest contribution to our success today. We made sure nobody fell too far behind, that everyone stayed hydrated, and warned each other of any upcoming hazards. With a positive and supportive attitude, 4 miles with our team went by very quickly. 
There were a few notable things we encountered on our search today:
First of all, the terrain. This specific area of the ranch had a variety of flora of varying densities. While some parts were open spaces with some short grass, others we filled with thorned bushes and large trees that we had to maneuver through and, as you could imagine, it was not easy. Knowing the difficulty of walking through this environment with full gear and a lot of daylight, it was unfathomable what migrants experience when they travel these same areas with the bare minimum of necessities and, most likely, at night.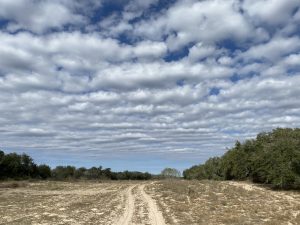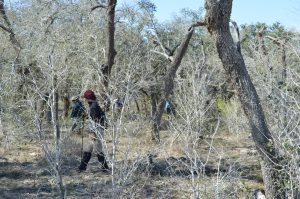 We found some personal effects left behind by passing migrants. While most of what we found was quite old and scarce, this was important information to note because it told us that the paths we were walking were no longer as heavily trafficked as they have been in the past.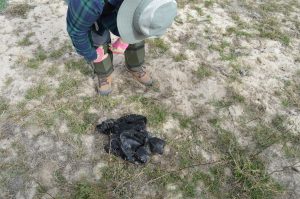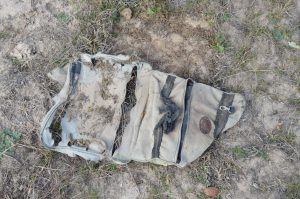 We also encountered some of the animals that live on the ranch.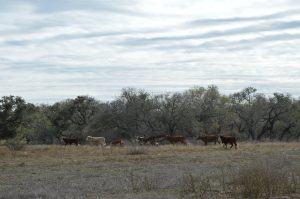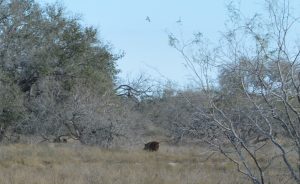 Additionally, something that caught our attention was a small squash-like vegetable that we found, growing by its lonesome, in the sand. We decided to take it with is and each try a bite of it back at the hotel; it was surprisingly sour and, after some research, we believe is called a Citron Melon.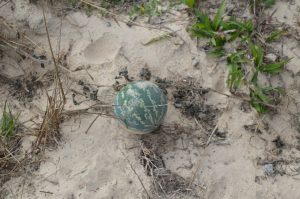 By the end of our search, while the weather was in our favor (a high of 71 degrees and some cooling winds), we were quite exhausted. After we took off our walking gear, we jumped into our minivan and started driving out of the ranch, but not before stopping at each water station we saw to replenish the water.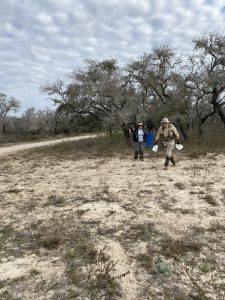 Our day was not quite over, though. We had the pleasure of having dinner with Sister Pam, and what a meal it was. Not only was the food delicious — we were so famished that we didn't even remember to take pictures of our food — but the company of Sister Pam was unmatched. She is the most wonderful, caring and inspirational person you could imagine. Even though it is just our second day, we all left our dinner with the motivation we all had to finish this trip strong from Sister Pam's kind words of encouragement.