Today began at 7 A.M. in the hotel lobby, where the team had a breakfast mostly composed of protein and Emergen-C to prepare for another long day of search and rescue or recovery. This breakfast was very different from previous mornings because we met with people that we would be working with later in the day. Rafael, the director and founder of Los Angeles del Desierto, traveled all the way from San Diego, C.A. to help a mother in search for her son. We met his team based in Texas and also met the mother, which was pretty emotional for me. I could see the sadness in her eyes, but she was very thankful for our volunteer work and gave us a bendicion (blessing) before we made the trip down to the ranches.
The first search and recovery operation really highlighted the forensic skills that we have to offer as team. For instance, Sammi (the mapping expert), was able to show me how to successfully construct a "baseline" for a map, under circumstances that were not ideal. She was able to adapt and create a detailed map in a very timely manner. I am quickly learning that working as a solid team is a tool that is essential in the field of forensic anthropology. Maintaining communication is key to getting the work done efficiently and correctly. During my time in Falfurrias, I have also realized that it is not only about working well within the Beyond Borders team, but also being a team player when it comes to working with other organizations. In this case, we had to work with U.S. Border Patrol, the Sheriffs Office, ranch owners, and the South Texas Human Rights Center. This involves a lot of "parties" and maintaining good working relationships will allow for more successes when it comes to searches, identification and repatriation of missing loved ones.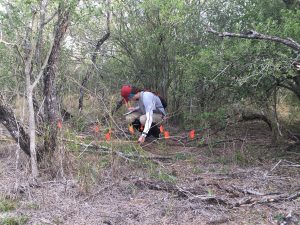 The second search, was quite adventurous as it required a 4×4, all wheel drive vehicle to get to the coordinates that Rafael had provided. Our rental car is  a mini van that does not come with those capabilities which left us no choice, but to pack in the back of Sheriff Deputy Don White's truck. Needless to say it was a bumpy, but memorable ride that involved a lot of cow sightings and tight grips to whatever was sturdy.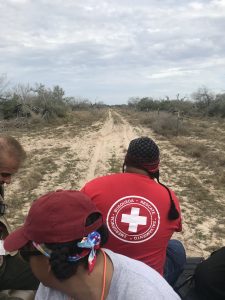 Once we got to the location we conducted a line search. The line searches that are done on these ranches in Texas are not what you would expect, not really a perfect straight line because of the desert terrain. It  actually involves a lot of crouching under brush with thorny branches. It is my fourth day in the field and it seems as though everything in Texas has thorns on it.  Again, our team was successful in executing a good search. We are constantly vigilant of our surroundings and each other. If we are not within sight of one other team member, we stop and use walkie talkies to ensure everyone is okay, no team member left behind! Even Sheriff Don Deputy White complemented our nice formation.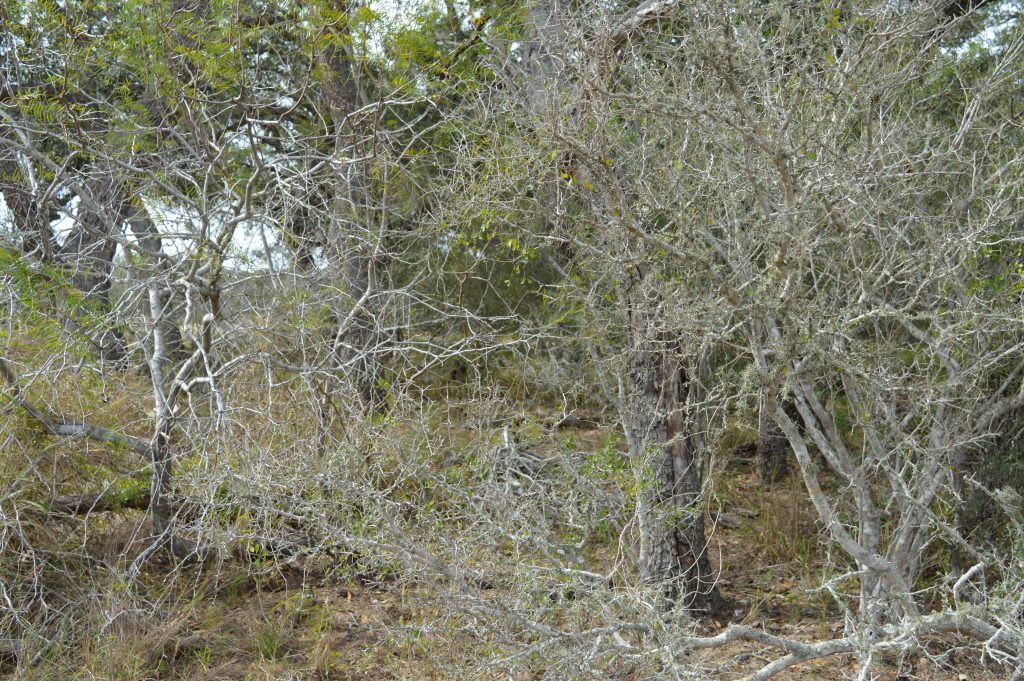 During our searches, we find a lot of material items left behind by migrants. Anytime we find an artifact, I am taken back because it feels unreal to be walking the same paths they once did. It leaves me reflective, asking many questions like: "Did they make it okay without this backpack that they once had with them?". Pictured below is one of many backpacks that have been found during our searches.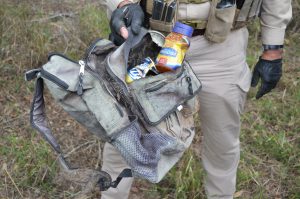 The search ended early when the ranch owner warned that there was a big rattle snake sighting, a decision I was not upset about. We made our way back to the hotel to get ready for a nice dinner hosted by Bill & Peggy Clark (Lasater), relatives of the individual who founded the city of Falfurrias, Texas. Every year they invite the Beyond Borders team to have dinner at their house. This evening, salad, pasta, and different kinds of pie were on the menu. I felt so welcomed as soon as we walked into those doors. The rest of the night was filled with many great conversations, laughs, and belly rubs!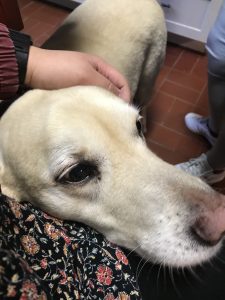 Day four is over which means tomorrow is our last day in the field, I cannot believe how quickly this week has gone by. I am sad that we will be headed to Indianapolis so soon because I will miss all the kind and wonderful people I have met along the way. I am extremely grateful and humbled to have been a part of this team, and look forward to sharing my experiences with fellow friends and colleagues to raise awareness on this humanitarian crisis.