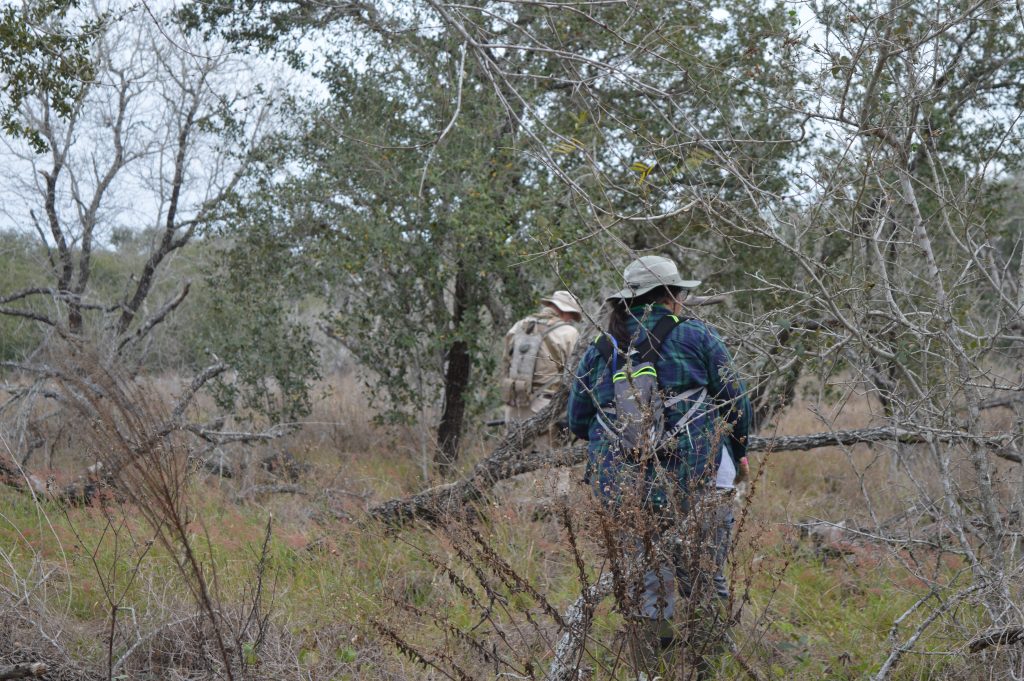 The six of us focused diligently on our line search with each step we took into the sinking sand. The thicket was so dense that we could not walk in a straight line without compasses. The thorny bushes extended outward and clustered in groups; dangerously spiked tree-limbs slouched to the ground causing us to duck, twist, and maneuver underneath them to pass through. We could not ignore these spaces and walk around them or we weren't being entirely thorough. What if a bone was dragged months ago by carnivores into a dense patch of vegetation out of plain view?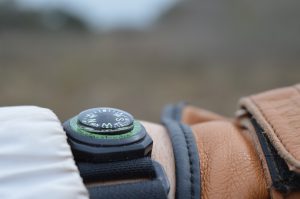 These areas are often too dense to see into from a distance. Our mental exhaustion was unquestionable. Our eyes swept the ground from left to right, alternating between farsighted and nearsighted focusing as we partitioned the different vegetation, rock, insects, animal burrows, and other potential safety hazards. We simply could not let our guard down during this process while we looked for human bone and any migrant's personal affects. The wind was blowing violently which kicked up sand and further obstructed our vision. Our hats and glasses shaded from the sun but didn't seem to block the sand from getting in our eyes, nose, and mouth and sticking to our Chapstick. The air was a humid 87 degrees for our last day of searches and dang did we feel it! Out here, it's a different kind of beast.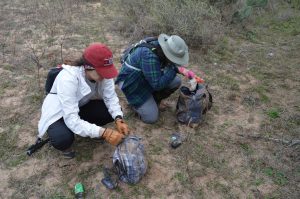 During our first search of the day, Dr. Latham asked us to wait up while she investigated an area of interest. A minute later we all went over to discover that she'd found a recent camp-out. There were numerous backpacks. The fabric was fairly recent, so we unzipped them to find they were filled with non-perishable foods, prescription glasses, toiletries, electrolyte pills, fresh trash bags, and clothing. The trash bags are quite utilitarian: used for ground cover while sleeping, shelter, raincoats, blankets, and any other creative adaptation. You could sense the weight this had on our hearts once we realized these were signs of the recently living. We even found store-bought tortillas in some of the backpacks that just expired a week ago and were free of mold. A group came through here recently, far more prepared than most, and hopefully they did survive.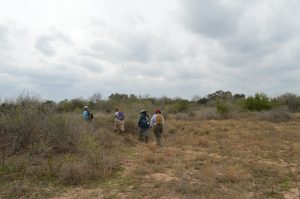 Today was our last day of searches and we had finally truly mastered our system. I am in disbelief that this is our final workday. We covered 5 miles of walking distance through extremely thick brush on 2 ranches. The average walking speed according to Deputy White is around 0.7/0.8 mph when conducting line searches through the South Texas thicket. Yet, he determined we were covering ground at about a rate of 1.7 mph. Deputy White has been conducting searches for decades, so it was invaluable to have his insight in the area. The technique seemed to be as follows: start with a coordinate of known migrant activity, or one that hadn't been searched in a while. These could be prioritized due to 911 calls with GPS coordinates, some kind of insider intel, previously discovered pathways, or unsearched areas on a ranch that we had permission to enter into. Then spread out and sweep from east-west and west-east directions until you discover a sign or lack thereof. This is a vastly complex subject with various levels of involvement and organization, so we were largely there help out wherever we were needed. I wholeheartedly wish we could assist more often, but it's all very complicated with this being private land.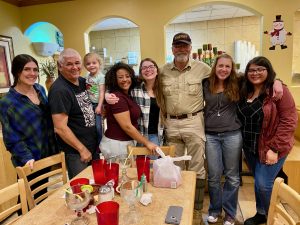 Today has been my favorite day of the trip so far. Regardless of the treacherous terrain, the hardest part was saying goodbye. Goodbye to the Texas landscape: although it feels like a terrifying beach where everything is trying to harm you, it has been a genuinely beautiful sight to behold. Goodbye Eddie Canales: we have been truly inspired by your passion for saving human lives, your stories, your leadership, your contagious laugh, and your friendship. Last but not least, goodbye Deputy Don White: I cannot even begin to describe how much you have contributed to this life changing experience for our team. We are all indebted to you and look up to you so fondly.
Each trip is one in a million and is unpredictable in the best ways. This may end up being my last trip, but it won't be the last for Beyond Borders; so speaking on behalf of future teams: goodbye all… until next time.