After getting back to Indianapolis late Friday night, there were just a few days turn around before heading out to our annual regional conference in Nevada. The weekend was spent unpacking and resting, trying to get over the cold I picked up in Texas before taking another trip. My lengthy to-do list was staring at me, but it was too tempting to put it off another week until I'm home for good again.
These past couple days have been kind of like limbo in different ways – recovering from one trip, gearing up for another right away; knowing there's a list of things to do, but not many tasks that can be finished before I leave again; playing the balancing game of buying just enough food to have enough but not too much to finish before I leave again for four days. I've never been crazy about this type of unsettled feeling, and this time it's about more than just daily logistics.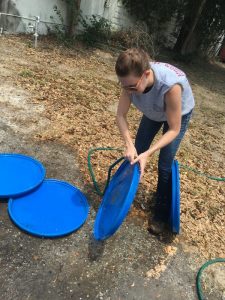 While we were in Texas, we were working towards something big. Though it was easy to lose sight of that in the heat of the day and being focused on the work, there were always small reminders that we were there because of something much bigger than ourselves. Things like U-turns and window markers, phone calls about missing loved ones, fresh footprints in the sand, little kids' backpacks, and the stories told by Eddie, Deputy Don, and a few other friends we made while down there.
I found myself forgetting the bigger context while I was working, or at least feeling one step removed from it. I had a blast building and filling water stations, riding around in Eddie's truck and loving the kind of manual labor I used to do growing up on a farm. I also took notes on water usage, knowing that it meant there were people that had come through that route, but never really letting it sink in. In some ways, I feel like I'm still in that limbo of knowing the information, but not yet completely realizing the complete context that goes with it.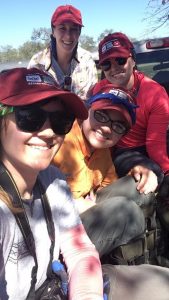 For every gallon of water we put out at existing stations, it meant that there was someone that had taken one previously. Without knowing their story of what came before or after their visit to that water station, it's hard to know details about the individual people we are helping. But we can imagine, from the memories of others who have crossed. Regardless of the reason, it was strong enough motivation to risk their life crossing what I know to be a very unforgiving terrain. This summer will be especially hot and dry, which will only increase the danger of taking hazardous routes through the brush and the sand.
I know all this, and yet it was alarmingly easy to slip back into my normal routine at home. Already, our trip to Texas seems like a memory instead of happening just last week. I brought a few small snail shells back with me, to set on my dresser as a daily reminder to not forget my experience and what others will continue to go through. I look forward to sharing more of my stories with my friends and family, both to introduce them and remind myself of what's going on outside my own little bubble in Indy.