I thought I'd write a quick post to share a documentary that I watched on Netflix the other night. The film is called "Which Way Home" and follows a few young children as they make the dangerous trip from Guatemala to the US border. The filmmakers ride "La Bestia" with them, stay in migrant shelters with them, and share many experiences of fear and anxiety with them. But for me, the most interesting part of the film was hearing what the kids had to say: why they were migrating, what they thought the US would look like, what their life at home was like, etc.  I was absolutely blown away by the developed, complex answers that many of the children gave, some who were only nine years old. Some have recently argued that children have arrived at the border with scripted answers that aren't necessarily honest, but it is obvious from the multiple interviews throughout the film, many during extremely tense moments, that these children are giving honest answers.
Those answers from children are a perspective that I've longed for ever since I was invited to assist with this crisis. Sure, people have told me what children say, why they come to the states, but the answers told to me are somewhat generalized, and the game of telephone does not necessarily reflect an accurate perspective of the child migrant. This film helped to supply that perspective. Yes, I realize that documentaries are also indirect and that footage is selected specifically by editors, but hearing the kids talk and experience the extremely dangerous journey was incredibly eye-opening.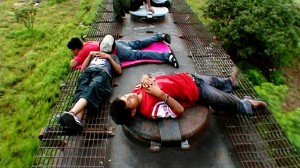 I encourage our readers to watch this documentary. It is emotionally rough, but very real to what is happening right now. I wish I would have seen it before I went back to the field, but I'm also happy that I didn't see it until I returned; it filled gaps in my knowledge of the crisis and answered questions that I didn't know to even ask.
If there are any other movie/documentary suggestions that you might have for us, please shoot us an email and we will be more than happy to post them here on our blog! As all of us have been pretty forthright about in our previous posts, anyone can help towards this crisis simply by seeking an understanding of the multiple perspectives that go into this crisis and to share those perspectives with others.
Update: While researching more about "La Bestia", I came across this article from last month. Which Way Home was released in 2009, and so some changes may have occurred since then. It will be interesting to see how things will change (if things will change at all) as a result of the recent train ban.